eRoundup for 05/01/15
Funding Opportunities
CDC: Partner Support for Heart Disease & Stroke Prevention-Due May 11
This project aims to enhance the dissemination and promotion of evidence-based strategies and resources to support the prevention and control of heart disease, stroke, and related risk factors such as high blood pressure, high LDL cholesterol, and high sodium intake.
The NINDS Human Cell & Data Repository (U24)-Due June 9
The repository will maintain the current collection of fibroblast and induced pluripotent stem cell (iPSC) lines as well as develop, characterize, expand, and where appropriate genetically modify new high-quality iPSC, fibroblast cell lines and peripheral blood monocyte cells in accordance with the NINDS mission.  The repository will distribute human cell resources broadly to qualified academic and industry researchers. NINDS Human Biomarkers Biospecimen & Data Repository
NIH/NIMHD: Technologies for Improving Population Health & Eliminating Health Disparities (R41/R42)-LOI June 23
This FOA invites eligible U.S. small business concerns (SBCs) to submit Small Business Technology Transfer (STTR) grant applications that propose to develop a product, process, or service for commercialization with the aim of reducing disparities in healthcare access and health outcomes. SBIR
Centers of Excellence in Ethical, Legal, & Social Implications (ELSI) Research (CEER) (RM1)-Due July 15
The National Human Genome Research Institute is soliciting grant applications for the support of CEERs. The program is designed to support the establishment of sustainable trans-disciplinary research teams with the expertise and flexibility to anticipate, conduct research on, and quickly address a range of cutting-edge ethical, legal, and social issues related to genetics and genomics. 
Regional Medical Libraries for the National Network of Libraries of Medicine (UG4)-Due July 24
The goal of the NN/LM is to advance the progress of medicine and improve public health by providing U.S. health professionals with equal access to biomedical information and improving individual's access to information to enable them to make informed decisions about their health.
Lifespan Human Connectome Project: Baby Connectome (U01)-Due September 3
The Neuroscience Blueprint is supporting a Lifespan Human Connectome Project to extend the Human Connectome Project (HCP) to map connectivity in the developing, adult, and aging human brain. The goal of this FOA is to solicit grant applications that propose to extend the experimental protocols developed through the HCP to children in the 0-5 year old age range to investigate the structural and functional changes that occur in the brain during typical development.
Mechthild Esser Nemmers Prize in Medical Science-Due September 15
Northwestern University Feinberg School of Medicine created a $200,000 prize in medical science. The first of which will be awarded in 2016 and will go to a physician-scientist whose body of research exhibits outstanding achievement in their disciplines as demonstrated by works of lasting significance.
NIH/NIDDK: Interdisciplinary Training in Bioinformatics & Diabetes, Obesity, & Metabolic Disease (T32)-Due October 17
The purpose of this FOA is to promote the development of an interdisciplinary workforce for conducting bioinformatics research in diabetes, obesity, and related metabolic diseases that are relevant to the research mission of NIDDK. 
NIH/NIDDK: Pilot & Feasibility Clinical Trials in Diabetes, & Endocrine, & Metabolic Diseases (R21)
This FOA encourages the submission of pilot and feasibility trials conducted in humans that will lay the foundation for larger clinical trials related to the prevention and/or treatment of diabetes or selected endocrine and genetic metabolic diseases within the mission of the NIDDK.
Educational Opportunities
NIMHD Pathway to Independence Award (K99/R00)-Due June 23
The purpose of the program is to increase and maintain a strong cohort of new and talented, NIH-supported, independent investigators conducting minority health and health disparities research.
Baxter: Young Investigator Award-Due June 30
Baxter's annual award program is open to graduate students and postdoctoral fellows. These awards seek to stimulate and reward research applicable to the development of therapies and medical products that save and sustain patients' lives.
The Helen Hay Whitney Foundation: Postdoctoral Research Training-Due July 1
This program supports early postdoctoral research training in all basic biomedical sciences. To attain its ultimate goal of increasing the number of imaginative, well-trained and dedicated medical scientists, the foundation grants financial support of sufficient duration to help further the careers of young men and women engaged in both biological or medical research. 
Postdoctoral Research Training in Pediatric Clinical Pharmacology & Therapeutics (T32)-Due July 21
This FOA invites grant applications from institutions that propose to develop clinician-scientists who will be leaders in the field of pediatric clinical pharmacology research.
NIHMD Translational Health Disparities Course-August 3-14
The course provides an introduction to the principles and practice of health disparities research. It focuses on concepts, methods, key issues, and applications. The course aims to provide the knowledge and research tools needed to conduct and develop translational and transdisciplinary research and interventions to eliminate health disparities. Apply
National Clinical Scholars Program-Due September 1
The 2016-2018 cohort offers an opportunity for nurses and physicians to collaborate on leadership and research skills. UCLA, University of Michigan, University of Pennsylvania, and Yale University have formed the consortium that sponsors the program, which is open to people with MDs or RN degrees with a doctoral component.
Apply for the Certificate Program in Translational Research (CPTR)
The CPTR is a multidisciplinary, innovative program which provides predoctoral or postdoctoral trainees with the expertise and experience to translate fundamental biomedical scientific discoveries into treatments that will benefit human health.
Research Resources
ACTSI's Ethical Dilemma of the Week
Research Ethics Consultations Available
If you have a research ethics question or are pondering a research ethics dilemma, John Banja, Medical Ethicist, Emory Center for Ethics, and Rebecca Pentz, Professor of Research Ethics, Winship, are available to confidentially discuss and offer non-binding advice. Call/email Banja at 404-712-4804/jbanja@emory.edu or call/text/email Pentz at 404-831-1758/rpentz@emory.edu.
ResearchMatch Kiosk Visits The Emory Clinic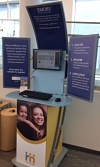 On loan from Vanderbilt University, the ResearchMatch kiosk can be found in the waiting area between Emory Clinic A and B. As an organization which aims to expedite the translation of healthcare discoveries to patients, Emory Healthcare is pleased to offer ResearchMatch.org – a not-for-profit website that brings together researchers and people who are willing to learn more about research studies on a secure and convenient website. Visit the kiosk today or register online!
Events
Known Drug Space-How to Navigate Chemical Space for Successful Drug Discovery Projects-Wednesday
Presented by Johannes Reynisson, PhD, University of Auckland in Georgia Tech's MoSE Building, Room 3201A at 4:00 p.m.
BioBash at The Painted Pin-Wednesday
Come network with leading professionals in Georgia's Life Science community
Creating a Patient Engagement Workbook for Research Teams-Thursday
by Sarah Madrid, MA
Panel Discussion: Social Inequalities in Health-May 8
K-Club: Lather, Rinse, Repeat-Focus on Research Grant Resubmissions-May 11
The K-Club provides an educational forum to assist fellows and faculty. This month, discussing proven strategies and approaches to effectively address reviewer criticisms and turn your unfunded grant application into an extramurally funded award. The meeting will be held from Noon-1:00 p.m. in Egleston, Classroom 5-7. RSVP | Attend via WebEx | Questions?
Paleolithic Diet Pattern, Oxidative Stress, Inflammation, & Risk for Colorectal Adenoma-May 12
Roberd M. Bostick, MD, MPH, Professor, Emory RSPH, Department of Epidemiology and Emory SOM, Department of Hematology & Medical Oncology, Winship Cancer Institute, will present this seminar sponsored by the Emory Center for Clinical and Molecular Nutrition, HERCULES, and the GDBBS graduate program in Nutrition and Health Sciences.
Webinar: Funding & Resources to Catalyze Translation from Lab to Patient-May 13
Academic investigators can find out how to collaborate with small businesses through the SBIR/STRR programs at NCATS; the National Heart, Lung and Blood Institute; and the National Institute of Neurological Disorders and Stroke. Experts will share unique pre-clinical and other resources to enable Investigational New Drug applications to the Food and Drug Administration.
19th Annual Regenerative Medicine Workshop at Hilton Head-May 13-16
Beings 2015 Biotech & the Ethical Imagination: A Global Summit-May 17-20
Co-sponsored by the ACTSI
Parent Training for Children with Autism Spectrum Disorder & Disruptive Behavior: Results from a Large-Scale Randomized Clinical Trial-May 20
This ACTSI-supported work is presented by Karen Bearss, PhD, Assistant Professor Department of Pediatrics Emory University School of Medicine.
Register Now: Community Health Matters-May 28-29
Presented by the ACTSI's Community Engagement Research Program (CERP) this forum will help build successful academic and community partnerships to achieve health equity. REGISTER NOW!
News
ACTSI Video Introduction
Watch Video Here
ACTSI-supported Clinical Trials Named Top in State
The Atlanta Business Chronicle recently featured 20 clinical trials across the state of Georgia that have the potential to make a big difference in health care. 16 out of the 20 trials identified are led by ACTSI-partner institutions and 5 out of 20 are conducted in an ACTSI Clinical Research Network (CRN) or Pediatrics Clinical Research Site.
6th Annual Academic & Industry Intersection Conference: Innovative Investment Models-Conference Slides
Read More
ACTSI Investigator Dr. Julie Champion in the News
Read More
NIMHD RFI: NIH's Vision for the Science of Health Disparities Research-Due July 31
ACTSI at 2015 Capitol Hill Advocacy Day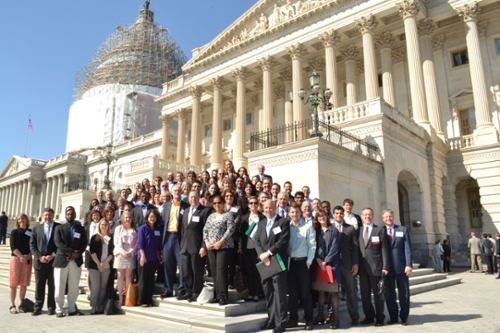 On April 16, nearly 125 grassroots advocates, including Andrew West, MBA, MPH, Sr. Center Administrator, ACTSI; Rakale Quarells, PhD, Associate Professor, Morehouse School of Medicine; and Jennifer Felger, PhD, Assistant Professor, Emory University, participated in the clinical and translational research community's 2015 Capitol Hill Advocacy Day. The primary goal of these advocates was to educate policymakers about the value and importance of federal clinical and translational research programs.
For more information on ACTSI, please visit www.actsi.org. Do you have news, seminars, or events of interest to clinical and translational researchers? Send them to actsi@emory.edu by noon on Thursday. To suggest subscribers or unsubscribe to the listserv please email actsi@emory.edu.
Please include the following citation in any publications resulting from direct or indirect ACTSI support, "Supported by the National Center for Advancing Translational Sciences of the National Institutes of Health under Award Number UL1TR000454. The content is solely the responsibility of the authors and does not necessarily represent the official views of the National Institutes of Health." KL2 Scholars should also list KL2 TR000455 and TL1 Trainees should also list TL1 TR000456.