Outstanding Results from Phase 3 COVID-19 Vaccine Trial Led by Former Georgia CTSA KL2 Scholar
---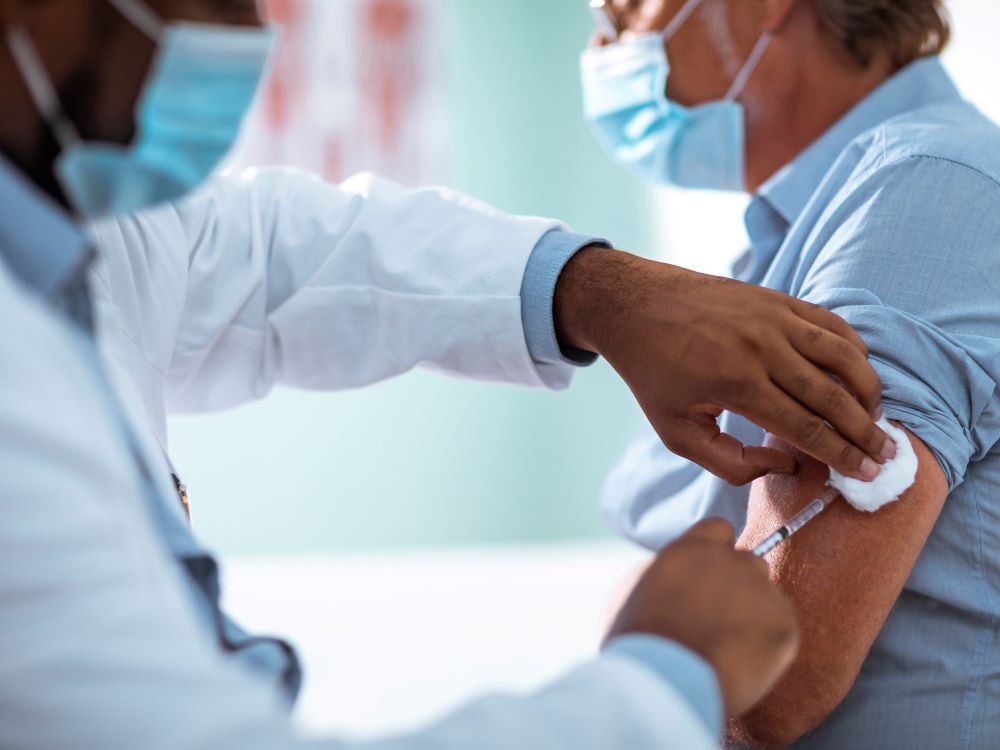 "Today was a great day for science in the fight against COVID-19. We now have the potential for 2 COVID vaccines that are >90% effective. These results were better than we could have hoped. At Emory, we enrolled nearly 700 subjects across 3 sites, and many of our participants are from diverse racial and ethnic backgrounds. We are so proud of the hard work our teams put in to get these amazing results," says Dr. Colleen Kelley.
On November 15, 2020, less than one year after a novel coronavirus was reported by Chinese health authorities, the NIH-appointed Data Safety Monitoring Board reported that the mRNA-1273 vaccine candidate used in this Phase 3 COVID-19 trial was safe and well-tolerated with a vaccine efficacy rate of 94.5%. This Phase 3 trial is a nationwide trial in 100 sites with 30,000 participants across the U.S. designed to evaluate the investigational vaccine that was co-developed by the National Institute of Allergy and Infectious Diseases (NIAID) and the biotechnology company Moderna, Inc.
As Principal Investigator of the Phase 3 trial site at Grady Health System's Ponce De Leon Center in Atlanta, Colleen Kelley MD, MPH, Associate Professor, Emory University School of Medicine, Division of Infectious Diseases, and Georgia Clinical & Translational Science Alliance (Georgia CTSA) former KL2 Scholar, is pleased with these interim results.
"We contributed greatly to the diversity of these trials. Focus was placed on ensuring that trial participants were representative of those in the U.S. and those who are the most likely to benefit including Black and Latinx populations. At the 3 Emory sites – Grady, Children's, and Hope Clinic – we succeeded in reaching and exceeding those diversity goals," comments Kelley.
Georgia CTSA provides several levels of support to Dr. Kelley and fellow investigators during clinical trials such as this Phase 3 COVID-19 vaccine trial. Georgia CTSA's Recruitment Center partners with investigators to ensure they have continued success in enrollment by identifying patients who have expressed an interest in being contacted about research, exploring relationships with community stakeholders to increase education about research opportunities, and helping to integrate messaging about research into communication with patients more broadly. The Recruitment Center also offers tools to help ongoing and future trials by working together to address recruitment of underrepresented groups.
Several CTSA hubs across the country via NIH's Community Engagement Alliance (CEAL) initiative are also helping with minority recruitment. Georgia CTSA's Community Engagement team through Georgia CEAL provides investigators with guidance and considerations toward strategic and structured collaboration to synchronize efforts in helping overcome health disparities by ensuring inclusion in these clinical trials.
Behind the scenes, Georgia CTSA's Informatics program helps support the database that enables the clinical trial registry. In addition, Georgia CTSA's Rapid Response Team works to streamline and facilitate the pre-award approval process for NIH and/or other Federally Funded Network Studies needing fast-track approvals, while the Regulatory Knowledge and Support program and IRB teams also support faster turnaround times across the board.
"Emory is a leader in vaccine and infectious diseases research. We have been engaged in many clinical trials over the years. Conducting clinical trials for new products, vaccines, and treatments is just part of what we do in responding to infectious diseases. So, we got involved, really from day one," adds Kelley. "I became involved in the Phase 3 trials and feel very confident in these efficacy results."
During these clinical trials, Kelley also collaborates closely with colleagues she met in the Georgia CTSA KL2 program. Kelley and her colleagues, who teamed up with each other during their Master of Science in Clinical Research classes, are now researchers working together during these important Phase 3 COVID-19 trials. The KL2 program has value added to the Georgia CTSA alliance, as well as to the world, as these trained leaders help in the fight against COVID-19. 
The goal of the 
Georgia CTSA KL2-Mentored Clinical and Translational Research Scholars Program
 is to support and enhance career development for junior faculty (MD, PhD, MD/PhD, or PharmD) from a wide variety of disciplines at Emory University, Morehouse School of Medicine (MSM), Georgia Institute of Technology (Georgia Tech), and University of Georgia (UGA) College of Pharmacy. The Georgia CTSA KL2 Core is committed to assisting junior faculty at partner institutions to become independent, established, and ethical clinical and/or translational research investigators.
The Georgia CTSA is a statewide partnership between Emory, MSM, Georgia Tech, and UGA and is one of over 60 in a national consortium striving to improve the way biomedical research is conducted across the country. The consortium, funded through the 
National Center for Advancing Translational Sciences (NCATS)
and the National Institutes of Health's Clinical and Translational Science Awards, shares a common vision to translate laboratory discoveries into treatments for patients, engage communities in clinical research efforts, and train the next generation of clinical investigators. For more information, visit
www.GeorgiaCTSA.org
.