Former Georgia CTSA Diversity Scholar Receives NIH Award to Study Health Disparities in Prostate Cancer
---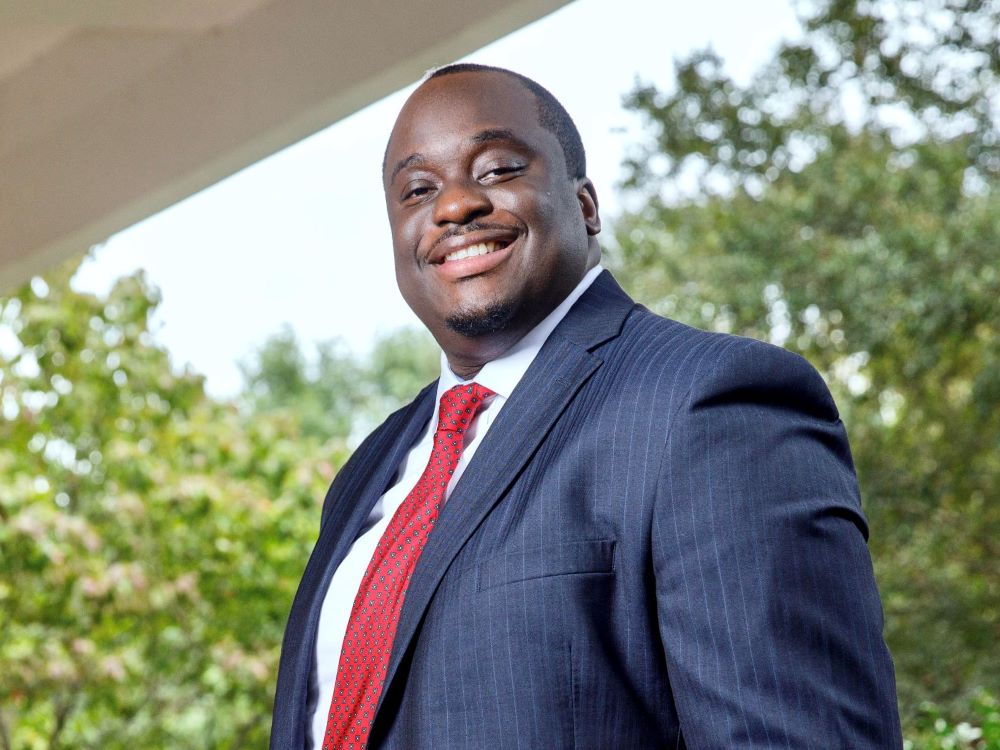 "To have the greatest impact, you have to collaborate. You have to build a multi-disciplinary team that will sustain the research long after you're gone," says Dr. Ewan Cobran. 
Former Georgia CTSA UL1 Diversity Scholar, Ewan Cobran, PhD, Assistant Professor, College of Pharmacy, University of Georgia recently received an NIH K01 award for his research, "Genetic Literacy and Patient-Caregiver Communication of Prognostic Genetic Technology for Localized Prostate Cancer."
UL1 Diversity Scholars work closely with the Georgia CTSA KL2 program and benefit from the infrastructure, resources, training and mentoring. The KL2 program provides the opportunity for didactic training, and also requires that the trainee have an established and successful lead mentor, as well as an Advisory Committee, who could provide further guidance and training for those pursuing careers in clinical and/or translational investigation.
"This training program demonstrates the synergy between our institutions in how it helped me reach out to people and partners of Georgia CTSA. I built connections at Emory, Morehouse, and UGA in putting together a very competitive grant application. NIH could see the significant growth and trajectory in my research," says Cobran.
Dr. Cobran's mentor at Emory comments, "Ewan is a remarkably intelligent, motivated, engaged person, who is dedicated to addressing and eliminating disparities in healthcare. He works tirelessly hard to build consensus and momentum. All will benefit," remarks Viraj Master, MD, PhD, FACS, Professor, Fray F. Marshall Chair in Urological Research, Emory University.
In 2014, Cobran started working at UGA and began attending the monthly cancer prevention seminar program at the Winship Cancer Institute at Emory. He applied for a National Cancer Institute (NCI) grant for his research, but his project was not funded. Cobran continued to refine his research proposal. Now that the National Comprehensive Cancer Network recommended that patients and clinicians consider tissue-based prognostic genetic testing for localized prostate cancer, and Cobran is connected with researchers across the Georgia CTSA, he applied again and recently received an NCI K01 award for his research.
While prognostic genetic testing has become the standard of care for localized prostate cancer, health disparities persist in low income, African-American and rural white males. Cobran's research aim is to reduce disparities in treatment care and outcomes by increasing genomic literacy which is a barrier for these patients before and after seeking treatment.
"These men are facing similar issues related to health care disparities. Often, there are late-stage diagnoses in these communities. They have the same fear of cancer fatalism because of the lack of access to a primary care physician and preventative care. Additionally, in some communities, there is medical mistrust when genetics are mentioned. We want to introduce an intervention by creating a video to explain genetics, prognostic genetics, prostate cancer, and why they should consider doing a genetic profile after they've been diagnosed to help inform the treatment plan. This intervention could help reduce their fear," says Cobran. 
"The cancer process not only impacts the patient, but it also impacts the family and specifically the caregiver. We want it to be an informed decision by increasing genomic literacy among patient and caregiver, and comprehension of genetics and prostate cancer genetics. By creating an educational video, we aim to increase genetic literacy in underserved communities and reduce health disparities."
Reflecting on his journey, Cobran notes, "My introduction to prostate cancer and health disparities was something that I saw up front. I was in my doctoral program when my grandmother was diagnosed with stage 4 breast cancer, and my grandfather who had prostate cancer had recently died. My grandfather was a farmer who lived in rural Jamaica, and my grandmother was concerned about his care and didn't prioritize her care. Sadly, she died a few months later. This is the same dynamic in communities of color and in rural white communities, where family members are working to provide care or be caregivers and don't have time to take care of their own health."
"Whenever someone in these communities hears the word 'cancer', they think it means a death sentence, as opposed to other communities where prevention is a key component of annual preventive care or an annual physical. That's why I got involved in prostate cancer health disparity research. For me, it's a work of passion. I'm passionate because I see the challenges and opportunities to improve health."
In addition to receiving a K award for his research, Dr. Cobran also recently received an NIH LRP award which is an extramural loan repayment program for health disparities research that is provided by the National Institute on Minority Health and Health Disparities. By repaying medical student loans for two years, the LRP award removes some of the barriers for early-stage investigators who are conducting health disparity research.
"As a PhD, you may graduate with large student loans. NIH helps keep a researcher flourishing by offering a career development award to continue the trajectory of improving the science. While devoting your time to research, you can apply for the LRP award to help repay your student loans, which is exactly what I did. I received my K and LRP awards in the same week," comments Cobran.
"In my applications, you can see there is a passion and sincerity in the work that I'm doing. This was my third LRP application and my second K application. There is a level of persistence and determination that you have to not only instill, but you have to also believe that the work that you're doing will impact so many lives, so you need to be determined. I have surrounded myself with collaborators and reached out to partners across the CTSA that allowed me to submit a very competitive application. When I submitted my applications this time, NIH could see the growth in my work and me as an applicant."
"Georgia CTSA's resources helping me prepare my recent submissions were indispensable in crafting a response. My mentor team helped me determine the best way to put my submissions together. First, I received a Georgia CTSA UL1 diversity supplement and was included in the KL2-Mentored Scholars Program. I had two excellent mentors and access to all the resources. Now that I have a K01 award, I'm an advanced K, but I still have access to these important resources including mentoring."
Steven Beach, PhD, Distinguished Research Professor of Psychology, Center for Family Research Co-Director and mentor to Dr. Cobran at UGA, says, "Dr. Cobran's ideas have really come to life! It has been a great pleasure to work with Dr. Cobran. The structure of Georgia CTSA's KL2-Mentored Scholars Program is outstanding and provides many opportunities to learn about grant writing and get helpful feedback. I would encourage anyone to participate if they have the chance to do so."
Cobran adds, "Often in research, people witness the celebration of a scholar receiving an award, but they don't see the determination and defender of a failed proposal who put together another application and failed again. People have to adapt. If you need to modify your application, that doesn't mean you're not making an impact. If a grant is not funded, it doesn't mean that the idea isn't novel or worth an investment. It means that you need to retouch the idea a little bit differently, or you need to collaborate with researchers to expand the research for greater impact."
"It wasn't until I connected with other researchers across the Georgia CTSA that my research can achieve its full potential. The ability to collaborate with other investigators is a key strength of the Georgia CTSA. For individual investigators not receiving funding for their research, failure is not defeat. You can have a scientific discovery, but to have the greatest impact, you have to collaborate. You have to build a multi-disciplinary team that will sustain the research long after you're gone."
The Georgia CTSA is a statewide partnership between Emory, MSM, Georgia Tech, and UGA and is one of over 60 in a national consortium striving to improve the way biomedical research is conducted across the country. The consortium, funded through the National Center for Advancing Translational Sciences (NCATS) and the National Institutes of Health's Clinical and Translational Science Awards, shares a common vision to translate laboratory discoveries into treatments for patients, engage communities in clinical research efforts, and train the next generation of clinical investigators. For more information, visit www.GeorgiaCTSA.org.
Share This Story