Georgia CTSA Community Engagement Forum Highlights: Advancing Health Equity Amidst a New Normal
---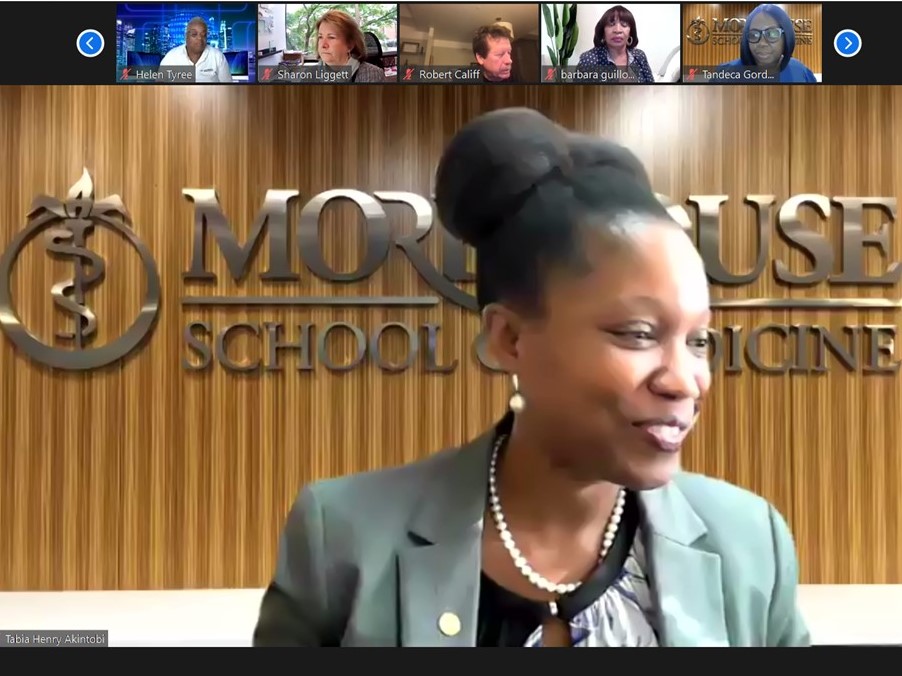 Celebrating translational research collaborations, the Georgia CTSA Community Engagement 5th Biennial Forum, One Georgia: Advancing Health Equity Amidst a New Normal was held virtually on April 1 and 2, 2021. The forum provided an opportunity for attendees to develop and sustain new partnerships that improve population health. Over 160 community-based organizations, public health practitioners, clinicians, and academic researchers registered to attend Day 1 of the forum, and nearly 200 registered to attend Day 2. Professionals, students, and community members shared research, policy work, and programs that address health or healthcare in Georgia.
Atlanta Mayor Keisha Lance Bottoms greeted the forum attendees via video, "The community-based approach you all take makes health and science comprehensive and accessible to all people from all walks of life. You are transforming lives through equitable partnerships. Whether it's COVID-19, HIV and AIDS, or cancer research, you are using your expertise to find the facts, create solutions, and inform the public. Through collaborative research and engagement, you are allowing Georgians to take an active role in their health and the overall public health of our state…. The quality of life for Georgians will continue to improve due in part to your pioneering efforts here and now."
The goal of the biennial forum is to significantly improve health of our communities through the increase of the awareness of the importance of community and academic collaborative research. Over the course of the two days, the conference offered expansive knowledge and engaging activities that spoke directly to the needs of Georgia, the southeast and entire nation. Attendees participated via Zoom from Atlanta and across the metropolitan area; small rural cities including Blakely and Camilla in Southwest Georgia; as well as from cities across the Southeast U.S. including Charlotte, NC; Columbia, SC; and Memphis, TN.
"This year's biennial forum reflected the systematic and evidence-based community leadership essential to advancing health equity in response to obstinate health disparities and those exacerbated by the COVID-19 pandemic," says Georgia CTSA Community Engagement Program Director Tabia Henry Akintobi, PhD, MPH. "More importantly it reflected the policy, research, clinical and community partnerships central to moving the needle, despite a new normal."
Participants learned from eminent speakers and guests from all over the country and representing various disciplines from policy, research and practice in healthcare. Presentations included "The Double Edge Sword of the Digital Transformation: Enhancing Disparities or Improving Equity?" by Robert Califf, MD, Verily advisor and former FDA Commissioner; "Rural Georgia – Stronger, Healthier", "Creating Connections: Community and Academic Partnerships to Advance Health and Well-being in Georgia", and "Achieving Health Equity".
During the forum, attendees also collaborated by posting questions and comments including, "Loved what Dr. Immergluck said, 'Vaccines don't save lives, vaccination does.' Community engagement is so important for encouraging vaccination.", "Thanks so much for your contributions to promoting immigrant and refugee health – particularly the emphasis on staff training.", "Your presentation is very helpful to me serving rural Georgia. Many thanks.", "Excellent and important information towards advancing a healthy Georgia!", and the final comment, "Thank you for this information and much needed conference to share what is going on around Georgia."
Georgia CTSA's Community Engagement program is a core component of a collaborative effort between Emory University, Morehouse School of Medicine (MSM), Georgia Institute of Technology (Georgia Tech), and University of Georgia (UGA). The program improves the way biomedical research is conducted and disseminated throughout Georgia and across the country. It works to unite existing academic-community research partnerships, facilitate community input into university research, and to increase health research in community settings that is both responsive and relevant to the health needs of the community.
The Georgia CTSA is a statewide partnership between Emory, MSM, Georgia Tech, and UGA and is one of over 60 in a national consortium striving to improve the way biomedical research is conducted across the country. The consortium, funded through the National Center for Advancing Translational Sciences (NCATS) and the National Institutes of Health's Clinical and Translational Science Awards, shares a common vision to translate laboratory discoveries into treatments for patients, engage communities in clinical research efforts, and train the next generation of clinical investigators.
Share This Story