Highlights of the 2021 Biostatistics, Epidemiology, and Research Design Forum
---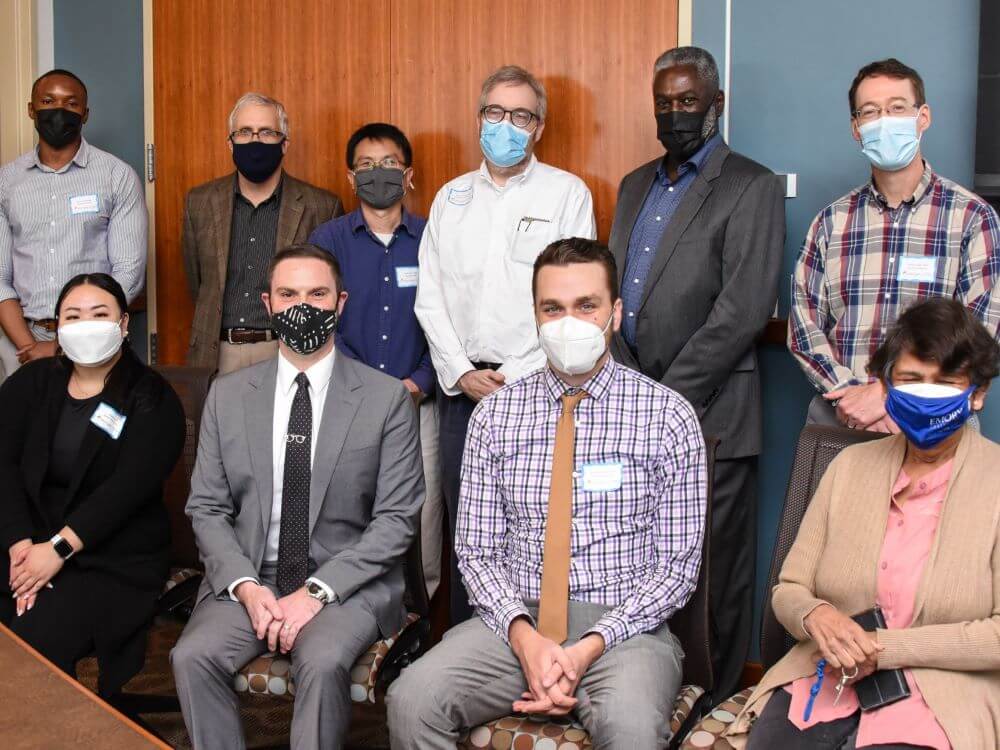 "Working with the BERD team has been one of the best decisions I have made at Emory," says Samuel Aiyedipe, Predoctoral Research Assistant, Rollins School of Public Health, Emory University.
Focusing on the theme of 'Advances & Challenges in Mobile Health and High-Frequency Data', over 130 researchers, statisticians, professors, and PhD students registered to attend this year's virtual and in-person Biostatistics, Epidemiology, & Research Design (BERD) Forum held on October 22, 2021. The goal of this year's forum is to facilitate new collaborations on the methodology or application of advances in mobile health and technology. 

Attendees collaborated from institutions across Georgia including the CDC, Children's Healthcare of Atlanta, Emory, Georgia State, Georgia Tech, MSM, UGA, and Wellstar; across the country including the Association for the Advancement of Blood & Biotherapies in Bethesda, MD; and across the world including Dianohia Academy College in Argentina and the Institute of Child Health University in Nigeria.
PhD student, Samuel Aiyedipe, introduced the keynote speaker for the forum, Rob Krafty, Professor, and Chair of the Dept of Biostatistics and Bioinformatics at Emory. Dr. Krafty gave a dynamic presentation on 'Learning and Inference for Dynamic Patterns in Biomedical Time Series'. Additional presentations included 'Introduction to AIM-Ahead' by Herman Taylor, Professor of Medicine and Director of the Cardiovascular Research Institute at MSM, and 'Design and Analysis Considerations for A Sequentially Randomized HIV Prevention Trial' by David Benkeser, Assistant Professor of Biostatistics and Bioinformatics at Emory. Dr. Benkeser's research focuses on machine learning-based causal inference in the context of HIV and preventive vaccine trials. Each presentation was followed by a Q & A, in addition to a moderated discussion at the end of the forum.
In a post-forum survey, participants reported they would be extremely likely to recommend this event to a colleague and found this meeting useful for their research and work. They commented they learned more about study design, enjoyed hearing excellent perspectives on research topics, and felt very exciting work was presented and discussed. Several attendees plan to reach out to other forum participants about potential collaborations.
In addition to fostering new collaborations during the forum, an ongoing goal of the Georgia CTSA BERD program is to provide value-added assistance to markedly improve the quality of the translational and clinical research of Georgia CTSA investigators. This is accomplished by having highly trained, service-oriented BERD personnel available to assist investigators in a timely manner. Study design, data collection, data management and development, and application of statistical methodology are all crucial elements of clinical and translational research. The Biostatistics, Epidemiology, & Research Design (BERD) program provides comprehensive biostatistical and epidemiological support. These services include support for protocol development, statistical analysis plans, and sample size/power calculations. Research faculty are also available to solve novel innovative problems in the areas of design of experiments, clinical trials, and longitudinal cohort studies.
The Georgia CTSA is a statewide partnership between Emory, MSM, Georgia Tech, and UGA and is one of over 60 in a national consortium striving to improve the way biomedical research is conducted across the country. The consortium, funded through the National Center for Advancing Translational Sciences (NCATS) and the National Institutes of Health's Clinical and Translational Science Awards, shares a common vision to translate laboratory discoveries into treatments for patients, engage communities in clinical research efforts, and train the next generation of clinical investigators.
Share This Story