Leading Discussions on Solutions to Improve Black Maternal Health
---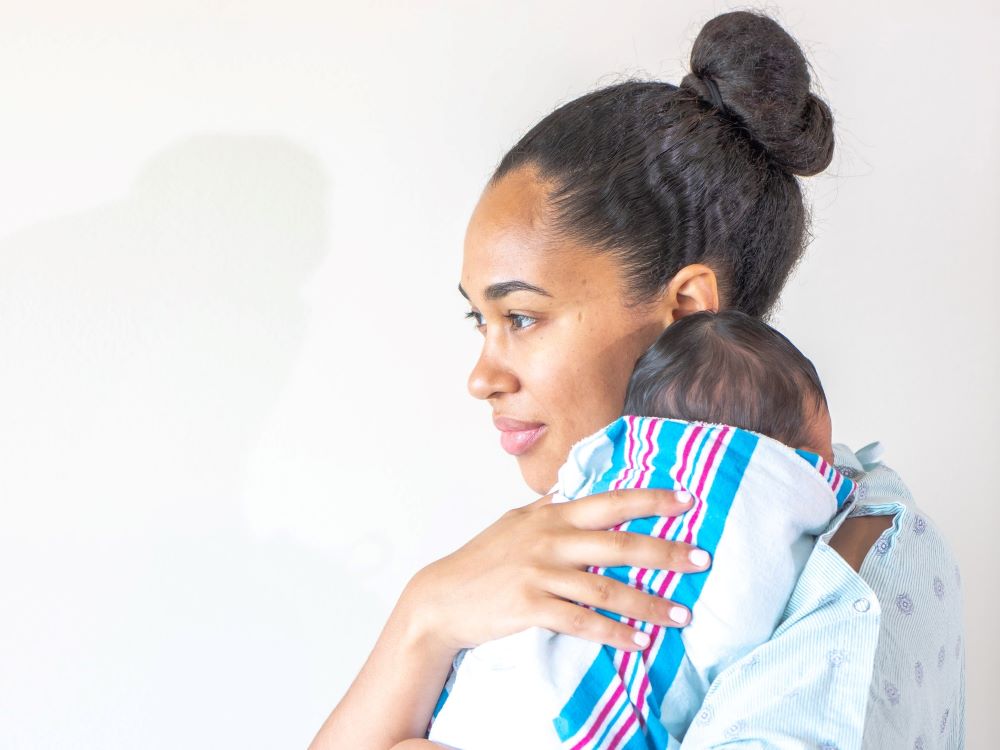 Maternal morbidity and mortality rates in the United States (U.S.) have been on the rise since 1990 and disproportionately affect non-Hispanic Black women. A recently published position paper from the Association of Black Cardiologists (ABC) highlights discussions on key causes and contributors to this disparity and details solutions to improving black maternal health. This paper, Working Agenda for Black Mothers, was published in print and online on February 10, 2021, in Circulation Cardiovascular Quality and Outcomes. Georgia Clinical and Translational Science Alliance (Georgia CTSA) Principal Investigator, Elizabeth Ofili, MD, MPH, Morehouse School of Medicine, is among one of the many influential health professionals to participate in this discussion on identifying the causes and solutions to the prevention of maternal mortality and disparities of care.
According to research contained in this paper co-authored by Dr. Ofili, the U.S. has the highest maternal mortality rate among the world's developed countries with approximately 17.4 maternal deaths per 100,000 live births.  Many maternal deaths are due to preventable causes; however, the numbers continue to rise in the U.S. One of the factors that drive these high mortality rates is that non-Hispanic Black women are more than twice as likely to suffer from maternal mortality (37.1 per 100,000 live births) than non-Hispanic Black women (14.7) and Hispanic women (11.8). The factors contributing to the disproportionally high rates of maternal mortality in non-Hispanic Black women are linked to many different social, environmental, and structural determinants of health. Research shows that the leading medical causes of mortality are cardiomyopathy and various cardiovascular conditions and diseases.
The Association of Black Cardiologists, Inc (ABC), an organization dedicated to addressing the disproportionate burden of cardiovascular disease (CVD) and care within the Black community, recently assembled a collaborative task force to address this significant maternal morbidity and mortality crisis. On June 13, 2020, the association hosted the Black Maternal Heart Health Roundtable as a collaborative opportunity to engage in intentional discussions around identifying current barriers at the patient, clinical, and community level and to help accelerate efforts towards reducing this disparity through advocacy, research, and education. The resulting position paper details these comprehensive discussions held during the roundtable.
Since the publication's release, it has received significant attention from both the media and the research community. According to the Altmetric Explorer Database that tracks and analyzes online activity around scholarly research, this paper is in the top 5% of all research outputs scored by Altmetric and among the highest scoring outputs (#24 of 1,384) from its publication source, Circulation: Cardiovascular Quality & Outcomes. In the media, the paper has been featured by 26 different news outlets, including stories from MSN, Medical Xpress, and Yahoo. It has been mentioned in 366 tweets from 175 different Twitter users, with a combined Twitter follower count of over 1,300,000 million people. In the research community, the paper has been cited by four peer-reviewed articles published in journals such as The Lancet and Journal of Cardiovascular Nursing.
Maternal morbidity and mortality rates continue to raise serious concern among medical and healthcare professionals across the U.S., specifically within non-Hispanic Black women and communities of color. The authors of this position paper conclude it is imperative a high-quality standard of care be established among all health professionals and institutions. Their recommendations include a multidisciplinary team, including primary care providers, obstetricians, cardiologists, nurses, midwives, doulas, mental health therapists, family and community members, and more must work collaboratively to provide the necessary comprehensive care for mothers during all stages of pregnancy – before, during, and after – to ensure the best possible health outcomes for all mothers and babies.
The Georgia CTSA is a statewide partnership between Emory, MSM, Georgia Tech, and UGA and is one of over 60 in a national consortium striving to improve the way biomedical research is conducted across the country. The consortium, funded through the National Center for Advancing Translational Sciences (NCATS) and the National Institutes of Health's Clinical and Translational Science Awards, shares a common vision to translate laboratory discoveries into treatments for patients, engage communities in clinical research efforts, and train the next generation of clinical investigators.
Share This Story