Georgia CTSA Clinical Research Centers Director Recognized for Achievements During COVID-19 and Beyond
---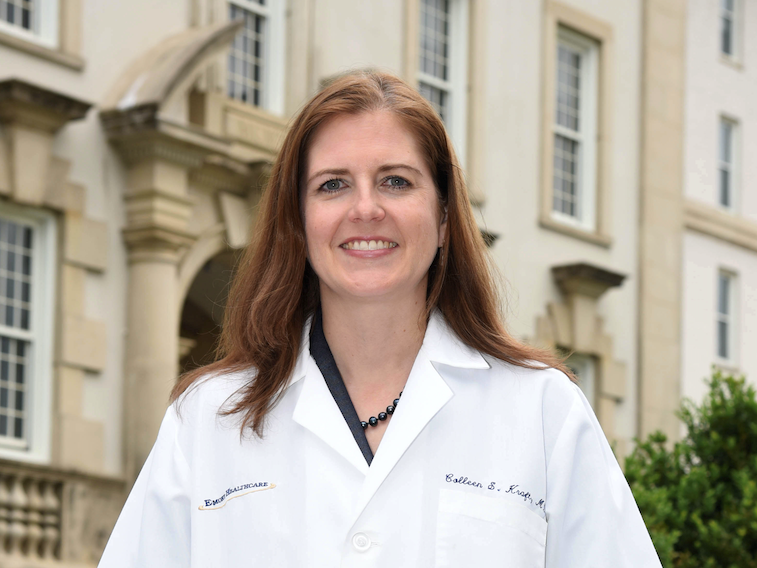 "Without a doubt, the support from the Georgia CTSA changed the trajectory of my career.  It connected me to mentors, protected time and matched me with clinical research which is so important to me," says Colleen S. Kraft, MD, MSc.
Known as one of Emory's leading infectious disease experts, Colleen S. Kraft, MD, MSc, is no stranger to today's media outlets and the medical community for her role as a frontline trailblazer in the national efforts toward ending the coronavirus (COVID-19) pandemic. Her notable achievements do not stop there, as they go beyond her dedication to the study and treatment of infectious diseases and extend to her commitment to leadership in ongoing medical and academic roles at Emory, the Georgia CTSA, and with national associations.
A woman of many respectable titles, Colleen Kraft, MD, MSc, has an exceptional career trajectory and experience in treating some of the world's deadliest infectious diseases. Her interests lie in clinical and translational research of clinical microbiology, specifically regarding genomic sequencing of organisms and its relation to clinical outcomes. In 2014, Dr. Kraft was one of the physicians in the effort at Emory Hospital to receive and care for four patients who had contracted Ebola virus disease in West Africa. Now on a much larger scale as the associate chief medical officer of Emory University Hospital, Dr. Kraft has been tasked with helping to coordinate and protect hundreds of frontline healthcare workers at 11 hospitals across Emory Healthcare since the start of the coronavirus pandemic in early 2020. Some of her concerns have included making sure healthcare workers do not get sick or suffer from clinical burnout.
During the COVID-19 pandemic, Dr. Kraft has also been an invaluable source of knowledge in shaping the national conversation and public health policies. She has made appearances on CNN, NBC, and NPR programs, written op-ed pieces, and was profiled in the Los Angeles Times and the Atlanta Journal-Constitution. Governor Brian Kemp named Dr. Kraft to Georgia's coronavirus task force, and she also served on the NCAA COVID-19 Advisory Panel. ("Cutting Through the Chaos," Woodruff Health Sciences Center Community Benefits Report 2020.)
Dr. Kraft has had a longstanding history with the Georgia Clinical and Translational Science Alliance (Georgia CTSA). In the earlier stages of her career, Dr. Kraft participated in both the Georgia CTSA KL2-Mentored Clinical and Translational Research Scholars program and the Master of Science in Clinical Research (MSCR) degree program, with a training focus on infectious diseases. Over the past decade, Dr. Kraft has received several Georgia CTSA Pilot Grant awards and consistently utilized investigator services and research resources support from the Georgia CTSA Georgia Clinical and Research Centers (GCRCs) for several of the studies she has initiated. She gives the Georgia CTSA huge credit for her success. Today, she serves as Director of the GCRCs, leading the program's commitment to offering dedicated space, experienced staff, and a variety of resources to support the research process at a subsidized cost.
In addition, Dr. Kraft holds several other noteworthy medical and academic positions. She helped develop the Healthcare Human Factors Laboratory (HHFL) at Emory University, whose mission is to increase the safety, quality, and efficiency of healthcare through human factors-based evaluation and design. Most recently in October 2021, Dr. Kraft received a senior promotion to professor at Emory University School of Medicine. She currently serves as the 2022-2023 President-Elect of the American Society for Microbiology (ASM), the largest single life science society, composed of more than 30,000 scientists and health professionals and centered on the promotion and advancement of microbial sciences. Dr. Kraft is also a member of the Infectious Disease Society of America, Pan-American Society for Clinical Virology, American Federation for Medical Research, and the HIV Medicine Association.
It is with our deepest gratitude that we thank Dr. Kraft for all her hard work and dedication to contributing toward our nation's response to the COVID-19 pandemic and for her impactful leadership at Emory University, Emory Healthcare, and the Georgia CTSA.
Share This Story