Vital Role of RADx Tech Team in Expediting Evaluations of COVID-19 Testing Devices
---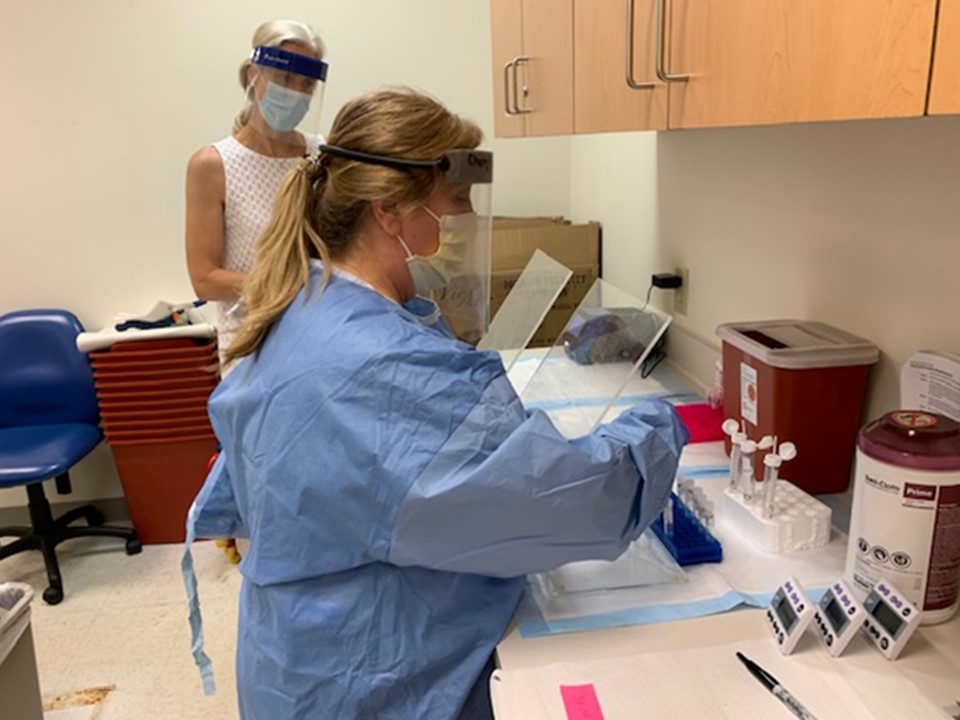 One year ago, when faced with the COVID-19 pandemic and the need to accelerate the development of testing technologies, the NIH launched the Rapid Acceleration of Diagnostics (RADx) Tech program. A new article describes the multi-institutional, (Emory, Georgia Tech, Children's Healthcare of Atlanta), transdisciplinary team, (engineering, clinical, laboratory-based pathology), of the RADx Tech Test Verification Core and its vital role in expediting evaluations of COVID-19 testing devices.
The paper 'The RADx Tech Test Verification Core and the ACME POCT in the Evaluation of COVID-19 Testing Devices: A Model for Progress and Change' appears in a special issue articles section, 'RADx Tech: A New Paradigm for MedTech Development,' published in IEEE Open Journal of Engineering in Medicine and Biology, vol. 2, pp. 142-151, 2021.
"Throughout the last year, Dr. Heilman and I have worked hand in hand to document the progress and challenges faced by our RADx Test Verification Core. It is our hope that the lessons learned from our center serve as a blueprint for others as they look to form large transdisciplinary teams," says first co-author Eric Nehl, PhD, Associate Research Professor, Emory University and Georgia CTSA Evaluation and Continuous Improvement Director. "It is important to widely share the multi-institutional, transdisciplinary teamwork of the RADx Tech Test Verification Core and the successful process that was used to expedite evaluations of COVID-19 testing devices during this critical time. I am proud to collaborate with such a talented team that is dedicated to addressing the urgent public health need for effective testing."
First co-author Stacy Heilman, PhD, Assistant Professor, Associate Vice Chair for Research, Emory University Department of Pediatrics and Children's Healthcare of Atlanta adds, "Dr. Nehl and I were focused on setting it up, getting it moving, and making sure that we could effectively measure progress. My role in standing this up early on was immediately pivoting existing infrastructure to accommodate this tremendous initiative. In pediatrics, we had a lot of the pieces set up and ready to go because we were already using them for research. Our biorepository, specimen processing lab, biosafety level 3 labs, and a COVID-19 testing drive-through were immediately pivoted to accommodate RADx Tech. The adult side was then able to capitalize on many facets of our existing standard operating procedures to get off the ground quickly as well."
While Dr. Heilman focuses on getting the machine working, Dr. Nehl helps make sure that the evaluation is solid. Together they cover the whole lifecycle of our local RADx Tech Test Validation Core, so they were the perfect pair to put together this document that describes this multi-institutional transdisciplinary team. They published the paper with the view of the entire process from beginning to end.
Dr. Heilman explains, "I like to begin with the end in mind. This encapsulates what we needed to do with this initiative. Instead of getting bogged down in the minutiae, we stepped back and looked at the long trajectory, studied milestones, and then stamped those milestones with the key collaborators and contributors along the way. It's so important to have the long view and think strategically about where you want to go, how you're going to get there, and who's going to help you."
Marking the one-year milestone of the RADx Tech program, Deborah Bruner, RN, PhD, Senior Vice President for Research, Emory University, says, "Emory is extremely proud of the work the RADx Tech team is doing in the service of humanity to test diagnostics that will help stem the tide of this pandemic. RADx has contributed to Emory being among the top institutions in the country funded to work on COVID-related diagnostics, vaccines and treatments. The NIH funding has made possible the amazing volume and pace of diagnostic testing that almost seemed to break the sound barrier in a matter of months. This work has informed not only COVID but has set up a machine for rapid diagnostic testing for multiple diseases in the future."
Two of Georgia CTSA's current and former leaders head up the NIBIB-funded Atlanta Center Microsystems Engineered Point of Care Technologies (ACME POCT) which was selected by the NIH, along with their institutions - Emory, Georgia Tech, and Children's Healthcare of Atlanta - to test and validate some of the most promising technologies for COVID-19 diagnostic tests as part of the RADx Tech team. Wilbur Lam, MD, PhD, is the Principal Investigator of ACME POCT, attending physician in the Aflac Cancer and Blood Disorders Center at Children's, and Georgia CTSA Innovation Catalyst Program Director.
"The RADx Tech Test Verification Core at Emory was tasked by NIH with verifying and validating novel COVID-19 tests for the country, and to date, our center has contributed to having 2 million more tests available each day," remarks Greg Martin, MD, MSc, Co-Principal Investigator of ACME POCT, Professor of Medicine at Emory University, and former Georgia CTSA Clinical Research Centers Program Director.
Learn more in the paper published in IEEE Open Journal of Engineering in Medicine and Biology, vol. 2, pp. 142-151, 2021.
The Georgia CTSA is a statewide partnership between Emory, MSM, Georgia Tech, and UGA and is one of over 60 in a national consortium striving to improve the way biomedical research is conducted across the country. The consortium, funded through the National Center for Advancing Translational Sciences (NCATS) and the National Institutes of Health's Clinical and Translational Science Awards, shares a common vision to translate laboratory discoveries into treatments for patients, engage communities in clinical research efforts, and train the next generation of clinical investigators.