Georgia CTSA Clinical Research Centers (GCRCs) Provide Vital Support for Groundbreaking ANCHOR Study
---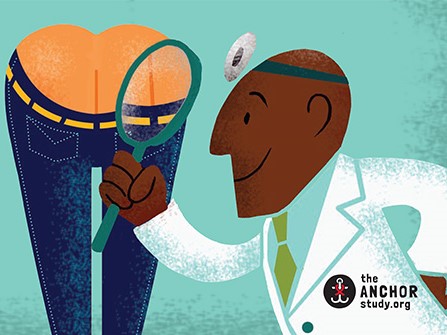 "Georgia CTSA Clinical Research Centers (GCRCs) sites provide experienced, knowledgeable research staff. Investigators will be pleasantly pleased with having a complex trial run and supervised by the GCRCs because of the efficiency, attention to detail, and level of support you will receive to complete your study," says Dr. Lisa Flowers.
According to the findings of the groundbreaking Anal Cancer/HSIL Outcomes Research (ANCHOR) study, conducted through the National Cancer Institute supported AIDS Malignancy Consortium, treating precursor anal cancer lesions can considerably lower the chance of progression to full-blown anal cancer among patients living with human immunodeficiency virus (HIV).
The ANCHOR clinical study was conducted at 25 clinical sites across the US. One of the testing sites included in the trial was the Georgia CTSA Clinical Research Centers unit at Grady Health System in Atlanta, GA, led by principal investigator Lisa Flowers, MD, MPH, Professor, Emory University School of Medicine. This unit provided Dr. Flowers and her research staff with dedicated space to store equipment, space to perform biopsies, nurses to perform blood draws and lab processing, and research coordinator support to assist with patient scheduling.
"Having a dedicated room to perform our work and see patients provided stability to perform this trial," remarks Dr. Flowers.
Though the risk of anal cancer is rare within the general population, the highest risk is found in people living with HIV. As seen with cervical cancer, anal cancer is preceded by a precancerous growth known as high-grade squamous intraepithetial lesions (HSIL). According to prior research, the removal of these precancerous cells has been shown to reduce cervical cancer rates by 80%. Programs for the secondary prevention of cervical cancer have served as models for initiatives, such as anal HSIL screening, to prevent anal cancer in at-risk populations. However, the lack of evidence-based support for anal HSIL screening and treatment reducing the risk of progression to cancer has hindered the inclusion of anal-cancer prevention programs in standard-of-care guidelines.
The phase 3 randomized, controlled trial included 4,446 male, female, transgender, and nonbinary participants living with HIV who were 35 years of age or older and who had biopsy-proven anal HSIL. Participants were randomized into two groups: treatment for anal HSIL or active monitoring of HSIL without treatment. This study demonstrated that eliminating high-grade squamous intraepithelial lesions (HSIL) through treatment significantly decreased the risk of developing anal cancer in comparison to active monitoring by 57%.
Dr. Flowers comments on how valuable the GCRC clinical research unit was in supporting this research, "GCRCs' nursing staff and their flexibility in working with our study patients was invaluable. They were always friendly to our patients, cognizant of when our patients arrived, let us know when patients did not show up for their appointment, and provided excellent documentation on each patient we saw, which was very important. Sometimes patients would show up for their appointment on the wrong date, but if they were within a window to be seen, the GCRC made a serious attempt to accommodate them since they had the space and time to do it. They would not inconvenience the patient and make them come another day which was important in alleviating a barrier to participation in the clinical trial. The professionalism was there. By ensuring we captured what was necessary based on the study visits, the GCRC staff was extremely helpful in keeping us in compliance for the study."
Reflecting on the ANCHOR Study and the significant impact it had on the GCRC research unit at Grady, Rebecca Shelton-Thomas, DNP, RN, GCRCs Nursing Director, says, "Not only did we support Dr. Flower's study from a personnel perspective but also a physical space perspective. It was a very high enrolling study which benefited the GCRCs since it helped support our staffing and growth for the Grady unit. It was a mutually beneficial relationship because the study helped us with staffing resources, the infrastructure, and some of the processes we have in place at that unit as it is today."
Highlighting the success in maintaining an 80% retention rate of trial participants at the Grady site, with over 80% being African American or people of color, Dr. Flowers adds, "It can be difficult to maintain compliance of minority patients participating in clinical trials, and we know that these barriers are not because of a lack of desire. One thing this study did was try to break down some of those barriers, but in addition to that, the GCRC created an environment where our patients were treated with great respect. Patients were so happy to see the nurses. There was a strong relationship that was built between them and our patients. When patients come into a research site and it is disorganized, it really discourages them. However, when they can see how professionally everything is handled, it changes the whole environment and provides a different experience. Overall, the environment of the GCRC contributed to the tremendous success of the study."
The ANCHOR trial is the first to present such data and gives greater justification for anal HSIL screening in HIV-positive individuals by demonstrating that therapy for HSIL lowers the risk of anal malignancy. Results of this study will be crucial in informing recommendations that will make anal cancer preventive programs the norm of care for those with a high risk of developing anal cancer.
Read the full research article, Treatment of Anal High-Grade Squamous Intraepithelial Lesions to Prevent Anal Cancer, published on June 16, 2022, in the New England Journal of Medicine.
Georgia CTSA's multi-site Georgia CTSA Clinical Research Centers (GCRCs) is a multilayered, flexible, and geographically distributed network created to meet the needs of translational and clinical investigators from Emory University, MSM, UGA, Georgia Tech, and Children's Healthcare of Atlanta (Children's). The GCRCs offers dedicated space and a variety of resources ranging from core laboratory services to a bionutrition unit to support the research process at a subsidized cost. Clinical sites, including nursing services, are located at Emory University Hospital, Grady Memorial Hospital, UGA, MSM, Children's, and Emory University Midtown.
The Georgia CTSA is a statewide partnership between Emory, MSM, Georgia Tech, and UGA and is one of over 60 in a national consortium striving to improve the way biomedical research is conducted across the country. The consortium, funded through the National Center for Advancing Translational Sciences (NCATS) and the National Institutes of Health's Clinical and Translational Science Awards, shares a common vision to translate laboratory discoveries into treatments for patients, engage communities in clinical research efforts, and train the next generation of clinical investigators.