Georgia CTSA Investigators Assess Sensitivity of At-home COVID Test
---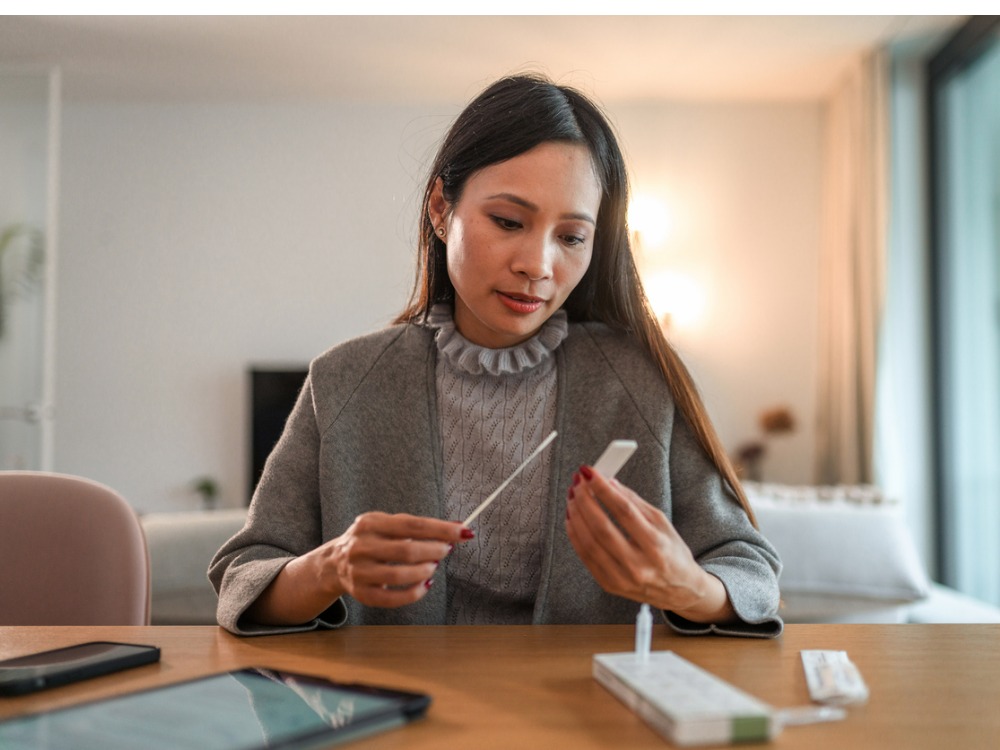 As the COVID-19 pandemic persists, the need for reliable diagnostic testing options becomes crucial. This is especially true for commercially available antigen tests that are not being administered by trained healthcare workers, but rather, by untrained users in a non-clinical or home environment. Georgia CTSA investigators Jennifer Frediani, PhD, RD, and Joshua Levy, MD, MPH, led a multidisciplinary assessment of one such test, the Abbott BinaxNOW COVID-19 Ag Card, to evaluate its sensitivity in detecting new viral variants and operational usability for self-testing by untrained users.
In the article, Multidisciplinary assessment of the Abbott BinaxNOW SARS-CoV-2 point-of-care antigen test in the context of emerging viral variants and self-administration, published in Scientific Reports, the investigators sought to determine the BinaxNOW test performance across different age groups, identify the limit of detection, variant detection, and assess patient/caregiver usability.
Amplification-based, reverse-transcriptase polymerase chain reaction (RT-PCR) tests are recognized as having the highest sensitivity for detecting severe acute respiratory syndrome coronavirus (SARS-CoV-2) RNA. Despite their reliability, they lack practicality for at-home use due to specialized equipment needs, higher cost, and slower turn-around time. Lateral flow antigen-detection assays (LFAs), such as BinaxNOW, have helped alleviate these concerns, allowing for more widespread use in testing scenarios. Ensuring consistent and accurate sensitivity of SARS-CoV-2 LFA diagnostic tests across new viral variants and user groups is imperative in determining their overall value. 
Dr. Levy, associate professor of Otolaryngology at Emory School of Medicine and former Georgia CTSA KL2 scholar, shares, "As the primary testing center for the NIH-sponsored Rapid Acceleration of Diagnostics (RADx) initiative, we facilitate the pre-market evaluation of new point-of-care tests to detect COVID-19. This initiative exemplifies the importance of interdisciplinary team science, with active support and collaborators from Emory, Georgia Tech, Children's, Grady, and the Georgia CTSA. We collectively identify unmet questions related to COVID-19 diagnostics, especially in the context of new variants, and apply our research infrastructure and prospective subject enrollment to gain valuable insight."
Georgia CTSA has also supported Dr. Frediani through the Research Education program as a former Certificate Program in Translational Research graduate. The research team involved several other past and present Georgia CTSA leaders, including Wilbur Lam, MD, PhD (Director of Innovation Catalyst), Eric Nehl, PhD (Director of Evaluation & Continuous Improvement), and Greg Martin, MD, MSc (former Director of the Georgia CTSA Clinical Research Centers/GCRCs). Additionally, GCRC staff supported this research study by providing freezer space at Emory University Hospital and pulling remnant clinical samples from Emory Medical Labs.
The findings from this study determined that while the BinaxNOW test accurately detected new viral variants, its performance is dependent on level of viral load, decreasing in sensitivity with decreasing viral loads. Investigators also found decreased sensitivity when performed by untrained users, versus a trained healthcare worker, despite the guided instruction on sample collection. Although home-based rapid antigen testing provides a quicker, less expensive option for detecting the presence of SARS-CoV-2, these study findings highlight the importance of conducting comprehensive usability assessments of emerging testing options for patient and caregiver use.
You can participate in COVID-19 testing clinical studies, too! Emory, Georgia Tech, and Children's are working with NIH's Rapid Acceleration of Diagnostics (RADx) program to evaluate and bring more tests to market. Participants will receive a $50 gift card and free PCR COVID test. RADx is currently seeking symptomatic participants who may have COVID-19. Samples will be collected at 59 Executive Park South NE, Atlanta, by an experienced research coordinator or nurse, and you may receive a test kit with instructions to conduct a test on yourself or your child. Register to participate in this important research.
The Georgia CTSA is a statewide partnership between Emory, MSM, Georgia Tech, and UGA and is one of over 60 in a national consortium striving to improve the way biomedical research is conducted across the country. The consortium, funded through the National Center for Advancing Translational Sciences (NCATS) and the National Institutes of Health's Clinical and Translational Science Awards, shares a common vision to translate laboratory discoveries into treatments for patients, engage communities in clinical research efforts, and train the next generation of clinical investigators.