Georgia CTSA Community Engagement's CHWs and Allies at Georgia State Capitol on Community Health Workers Day
---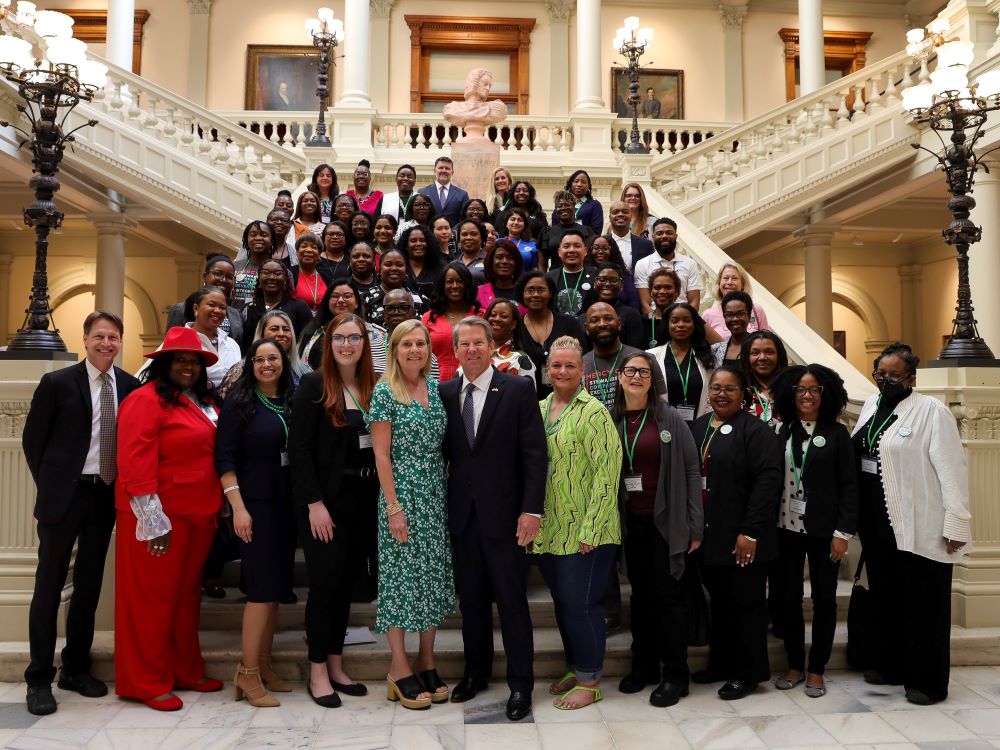 Georgia Community Health Workers (CHWs) and their supporters celebrated a successful first-ever CHW Awareness Day on March 7, 2023, with Governor Brian Kemp, First Lady Marty Kemp, and legislators from across the State. To start this special day, State Commissioner of Public Health, Kathleen Toomey, MD, MPH, and Morehouse School of Medicine President and CEO Valerie Montgomery Rice, MD, FACOG, kicked off an exciting information-sharing session with panels of CHW employers, supporters, and CHWs.
Adrianne Proeller, CHW, and Gail McCray, Community Health Education, are members of Georgia CTSA's Community Engagement program and were intimately involved in the planning and execution of this event with many partners, including Georgia Department of Public Health (DPH), Georgia Watch, and the Atlanta Regional Collaborative for Healthcare Improvement (ARCHI).
"CHWs act as a bridge between our academic institutions, our community partners, and the community. Because we are trusted members of the areas we serve, we know how to engage our neighbors in outreach and interventions most effectively," Adrianne Proeller, CHW, MSM Prevention Research Center and Georgia CTSA Community Engagement program.
Georgia CTSA's Community Engagement program helps raise awareness of the role of CHWs in engaging and uplifting Georgia communities. The Community Engagement program supports community-university research partnerships, obtains community input into university research, and increases health research in community settings that is responsive to the health needs of the community.