Highlights of the 2023 Southeast Regional Clinical and Translational Science Conference
---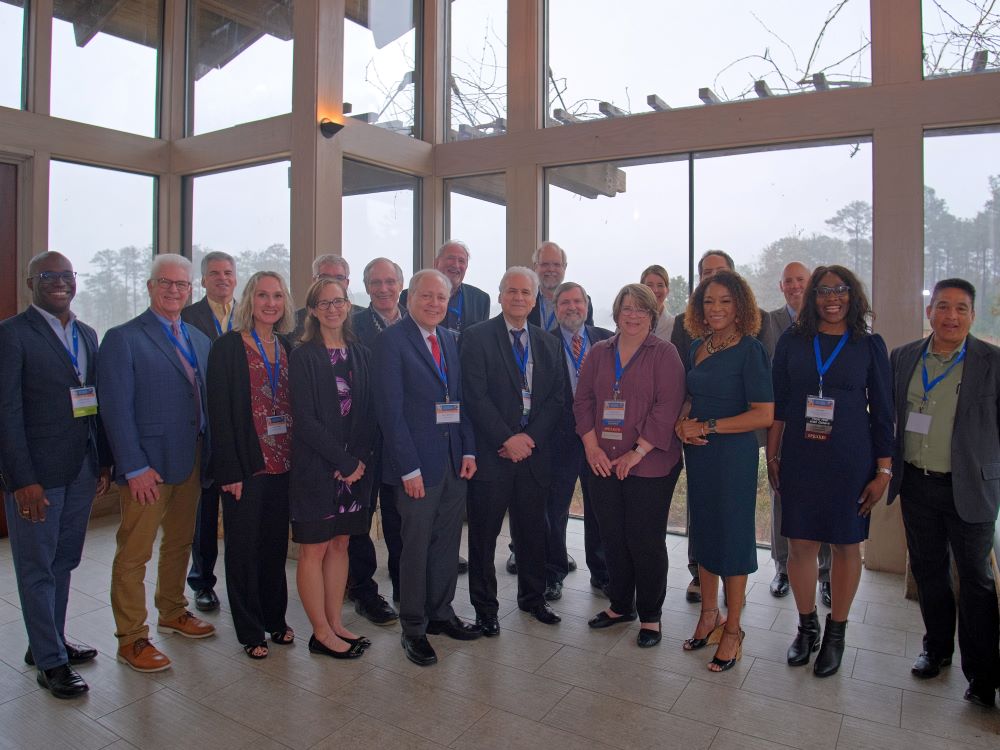 Over 320 researchers and translational scientists across the Southeast presented the best new health-related preclinical, clinical, implementation, and population- based research. During The Science of Translational Science session, Michael G. Kurilla, MD, PhD, Director, Division of Clinical Innovation, NCATS, shared an inspirational quote from Miguel de Unamuno, "We should try to be the parents of our future rather than the offspring of our past."
Attendees collaborated from academic institutions including Augusta University, Emory, Florida State, Georgia State, Georgia Tech, Medical University of South Carolina, Mercer, Morehouse School of Medicine, UAB, UF, UGA, University of Miami, and University of North Georgia; organizations such as the CDC, Children's Healthcare of Atlanta, and NCATS; and industry partners including Georgia Research Alliance.
Throughout the three-day conference, researchers and scientists engaged with each other during Featured Talks, Poster Viewing, Trainee Career Development Panel, and Sessions on Health Equity, Cancer, COVID-19, Infectious Disease, Mental Health, Community Engagement, AI Health, Maternal Health, Community Physicians Network, and Biostatistics, Epidemiology, and Research Design (BERD).
In a post-conference survey, participants commented, "I had a great number of discussions with people from other institutions about future collaborations," and "The grant workshop was a highlight as I enjoyed the different perspectives of the panelists."
Attendees remarked the most valuable aspects of the conference were "meeting with fellow clinical/translational scientists from different fields," "finding collaborators across the region on topics of interest," "NCATS leadership presentations and interactions," "meeting with cross-hub colleagues," "poster presentations were well-attended, good discussions, very informative," "great networking opportunity and new connections," "high quality and diversity of presenters," "talks on a variety of relevant and interesting topics by a variety of researchers from many different institutions," "exposure to science outside my field," and "learning, laughing, and the disco ball."
During the special Networking Banquet and Awards Ceremony, Georgia CTSA recognized team science and presented abstract awards from 115 poster presentations and 33 oral abstract presentations.
Team Science Awards
2023 Presidents' Award of Distinction for Team Science - "MRC-ICU Investigator Team"
Andrea Sikora, PharmD, MSCR, Clinical Associate Professor and Critical Care Clinical Pharmacist, College of Pharmacy, UGA
Ye Shen, PhD, Associate Professor, College of Public Health, Epidemiology & Biostatistics, UGA
2023 Georgia CTSA Team Science Award of Distinction for Early-Stage Research Teams - "Improving Understanding of Arrhythmia Mechanisms and Treatments in Heart Failure"
Neal Bhatia, MD, Assistant Professor, Cardiac Electrophysiology, Emory University
Flavio Fenton, PhD, Professor, School of Physics, Georgia Tech
Abstract Awards
Poster Presentation Winners
Basic Research

Christopher Zeuthen, Emory University, "Pharyngeal Pathology in a Mouse Model of Oculopharyngeal Muscular Dystrophy is Associated with Impaired Basal Autophagy in Myoblasts"

Public Health

Chris Knuycky, Georgia State University, "Does MPFL Surgical Reconstruction Lead to Reduction in Patient Reported Knee Pain, Re- Dislocation Rates, and Increased Functional Outcomes?"

Clinical

Amber Dawning, Morehouse School of Medicine, "Analysis of the Detection of Methicillin- Resistant Staphylococcus Aureus and Methicillin-Sensitive Staphylococcus Aureus Skin and Soft Tissue Infections in Children Using Matrix-Assisted Laser Desorption/Ionization Time-of-Flight Mass Spectrometry (MALDI-TOF MS)"

Dissemination & Implementation

Chris A. Rees, Emory University, "Dissemination of the Results of Pediatric Clinical Trials Funded by the U.S. National Institutes of Health"

Pre-Clinical

Moaddey Alfarhan, University of Georgia, "Pharmacological Inhibition of Spermine Oxidase Improved Visual Acuity and Contrast Sensitivity in Diabetic Mice"
Outstanding Oral Presentation
Olivia S. Jung, PhD, Emory University, "Crowdsourcing Turns On Frontline Innovation and Voice: Field Experimental Evidence From Federally Qualified Health Centers"