Georgia CTSA TL1 Trainees Receive Recognition at Translational Science 2023
---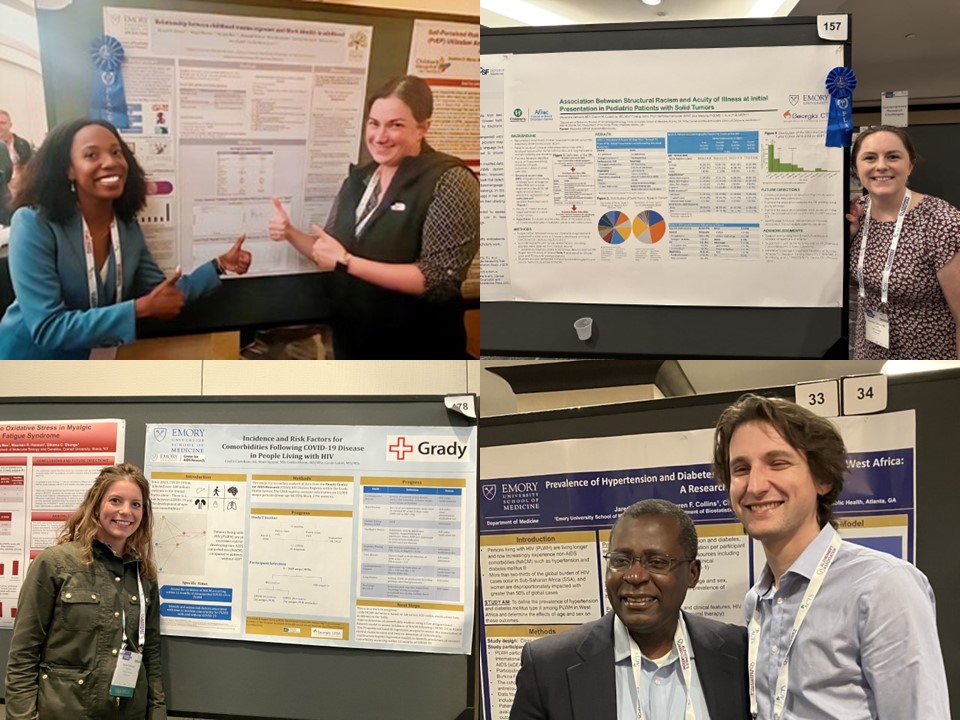 Congratulations to Georgia CTSA TL1 Trainees who received recognition at Translational Science 2023. "We are incredibly proud of our TL1 Trainees. They presented their impactful clinical and translational research, and many received Ribbon awards. Their successes highlight the importance and effectiveness of the Georgia CTSA TL1 Program. We look forward to their future successes," says Vasiliki Michopoulous, PhD, MSCR, Co-Director, Georgia CTSA TL1 Program.
Translational Science is a national meeting by the Association for Clinical and Translational Science (ACTS) for trainees, junior faculty, and senior scientists in translational science and clinical research. The Translational Science 2023 scientific program covered a wide array of topics in the field relevant to Innovating Translational Science for Research.
The following Georgia CTSA TL1 Trainees were recognized for their work:
David Parker, PhD – Gold Ribbon presented by ACTS for the Top 50 posters (less than 10%) and selected for an oral presentation during TS2023. (ACTS received over 515 posters.)

Identification of Psychosis Risk Biomarkers in 22q11DS for Future Translational Studies
"The Georgia CTSA TL1 program has been an outstanding training and research opportunity for me. The faculty and administrators have been exceptionally helpful. My background is in experimental psychology and neuroscience research, so I am extremely grateful to learn how my past and future research projects can move from discovery towards helping people in a clinical setting," remarks Dr. Parker. "My research as a TL1 Trainee focuses on identification and validation of psychosis risk Biomarkers. We study individuals with the rare genetic condition called 22q11.2 deletion syndrome who have a 20-30 times higher risk for developing a psychosis syndrome and a substantially higher risk for autism spectrum disorders. I also work on a study that has followed individuals who clinically are high risk for psychosis to identify risk factors for conversion to psychosis."
"As part of my TL1 project, I will be connecting both projects to help untangle which measurements are related to clinical or genetic risk for psychosis. Georgia CTSA has provided me with the resources and training to expand my research skills into multiple new areas of research which will help me throughout my career so that I can be at the cutting edge of research discoveries and know how to translate them to real solutions for individuals with psychosis and other psychiatric conditions," adds Parker.
Keziah Daniels – TL1 Blue Ribbon award (predoc) presented by Georgia CTSA, TL1 Trainee representative for TS2023 planning committee, and Burroughs Wellcome Fund Travel Award

Relationship between Childhood Trauma Exposure and Black Identity in Adulthood
"Being a Georgia CTSA TL1 Trainee has been an incredible experience for which I am tremendously grateful. Learning to critically analyze peer-reviewed work is crucial for healthcare professionals as patient care often relies on the findings of clinical and translational research. The Georgia CTSA TL1 program has been instrumental in equipping me with the necessary skills to not only proficiently analyze research data but also become an independent physician-scientist in the future. I have worked with many brilliant and collaborative pre-doctoral and post-doctoral colleagues while in the program and have felt very supported by my professors and the Georgia CTSA leadership. I cannot say enough good things about the program and all I have gained," reflects Daniels.
Alexandra (Alex) Cathcart, MD – TL1 Blue Ribbon award (postdoc) presented by Georgia CTSA

Association Between Structural Racism and Acuity of Illness at Initial Presentation in Pediatric Patients with Solid Tumors
"As a pediatric hematology/oncology fellow, I deeply appreciate the training I have received through the TL1 program over the last year. It has enriched how I am able to approach clinical practice and prepared me to make meaningful contributions to the field in the future," comments Cathcart.
Cecilia Castellano – Three Minute Thesis Semi-Finals

Post COVID-19 Non-AIDS Comorbidities in Persons Living with HIV
"The support I receive from the Georgia CTSA TL1 program allows me to spend a year of medical training to gain extremely valuable skills from expert researchers. I am so grateful to be supported and can take advantage of opportunities, including the ACTS conference," says Castellano.
Georgia CTSA's TL1 Program provides outstanding opportunities for clinical and translational research training for predoctoral and postdoctoral trainees. The program is focused on providing didactic and mentored research training for predoctoral and postdoctoral trainees interested in a career focused on clinical and/or translational research relevant to human health. The Georgia CTSA is dedicated to providing predoctoral and postdoctoral trainees with state-of-the-art scientific knowledge, tools, and methods to improve human health through rigorous clinical and translational research training. Through the TL1 Program, Georgia CTSA will increase the translational research workforce and enhance the career development of future leaders of the biomedical research workforce, a major mission of NCATS and NIH.